Generate Your First String Art
Super Simple Yet Accurate String Art Generator
Our String Art Generator will help you convert your pictures into string art in just a few clicks. You can download and share or sell your art without any restrictions.
Select Your Image File
The first step is to import your image file from your device to the string art generator. Currently, it supports png, jpg, and jpeg formats. Once you import your preferred image file, it will crop and grayscale it. The generator will take a few seconds to understand the image data and initiate the building process.
Custom Configuration
String Art Generator comes with a default configuration that will work with most images. It can be adjusted to get your desired result. We recommend you don't make any changes if you don't know what you are doing.
Building Process
The string art generator will take up to 15 minutes to complete the building process. The time it takes depends upon the configuration of the number of lines. By default, the number of lines is 4000, you can decrease it to faster the building process. You can download or take a screenshot of the art.
Free String Art Generator
Give new life to old, dull or damaged photos with our free tool.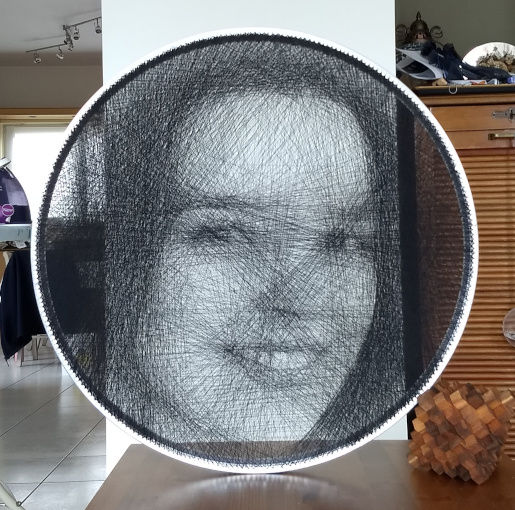 Why Should You Use Our Tools?
Web Based
Our string art generator is hosted on our server, so you don't have to install it on your device to make use of it. It's free and fast, works on all devices that have a web browser and internet enabled.
Open Source
The source code of all our tools is made available on GitHub and published under an MIT license. The links to the repository can be found on the respective tools page.
Privacy Focused
We make sure the user data remains private when they use our tools. That's why we do not collect personally identifiable information and refrain from using analytics service which sells or release user data to generate profit.